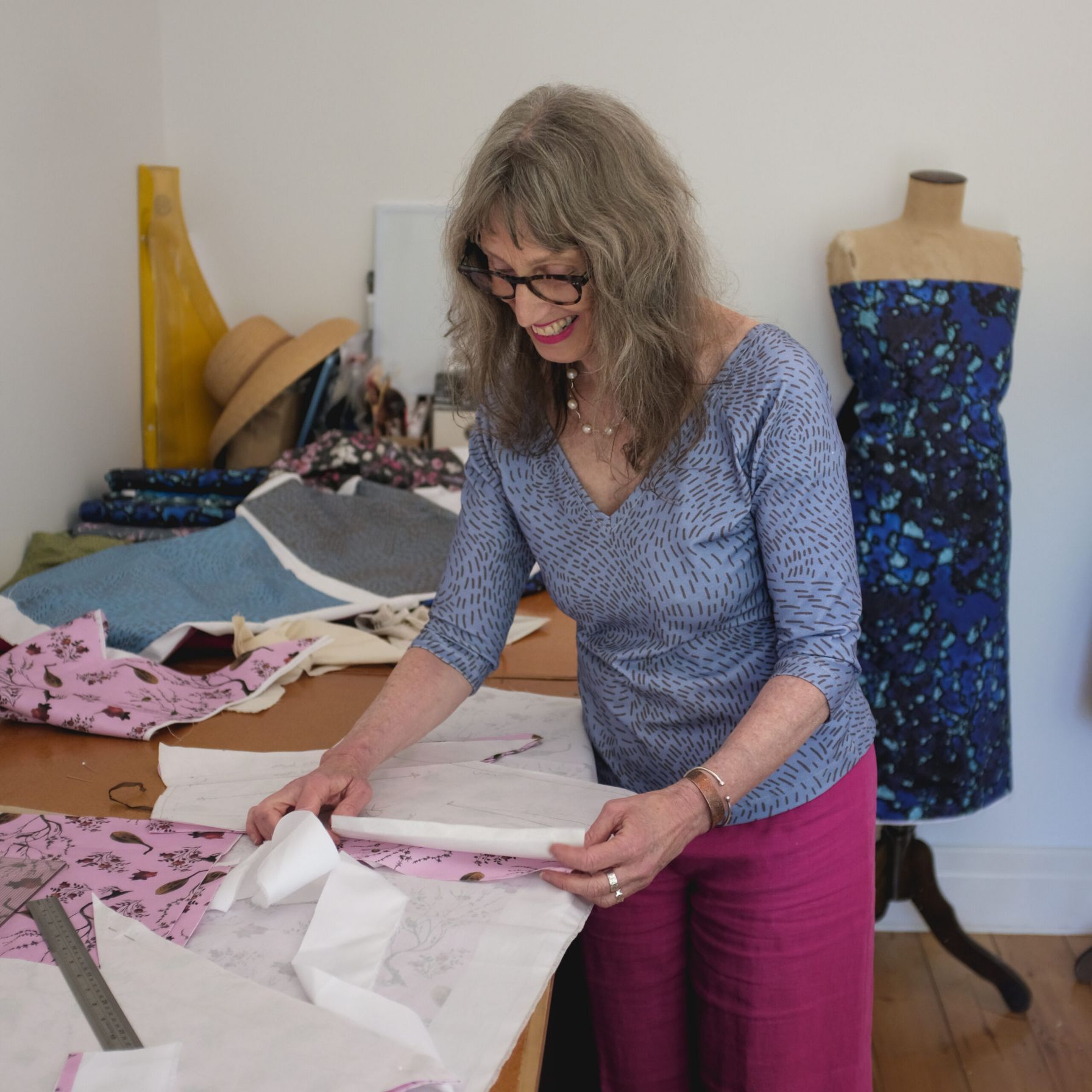 Accredited Brand Spotlight: Kate from Magenta Threads
Kate Pitman has always been interested in fashion and the art of dressmaking. Her mother June was a dressmaker for high society ladies in Melbourne (Naarm) from the 1960's until the early 2000's. As a young girl, Kate's mother took her to fabric stores to teach her about the different kinds of fabrics and how to tell them apart by feel. This sparked Kate's passion for sewing, and her first clothing designs were for dolls, using fabric scraps leftover from evening gowns made by June.
"My mother would make such outlandish things for her clients. It was the 'flower power' and psychedelic era, with rich bursts of colour and large bold prints. It seemed like anything was possible, and I felt so inspired!

Kate Pitman
Today, Kate is the owner of Ethical Clothing Australia (ECA) accredited brand Magenta Threads, which she runs out of her home studio in Thornbury, Melbourne. As a sole trader, she does everything in her business, from designing the fabrics, to patternmaking, to cutting and sewing each item by hand. She makes every garment to order, which means that each item is handmade for the individual customer.
June taught Kate how to fit clothing to the body, and it's something that Kate sees as crucial in her business today. She asks her online customers to provide their measurements so her clothes are the best possible fit.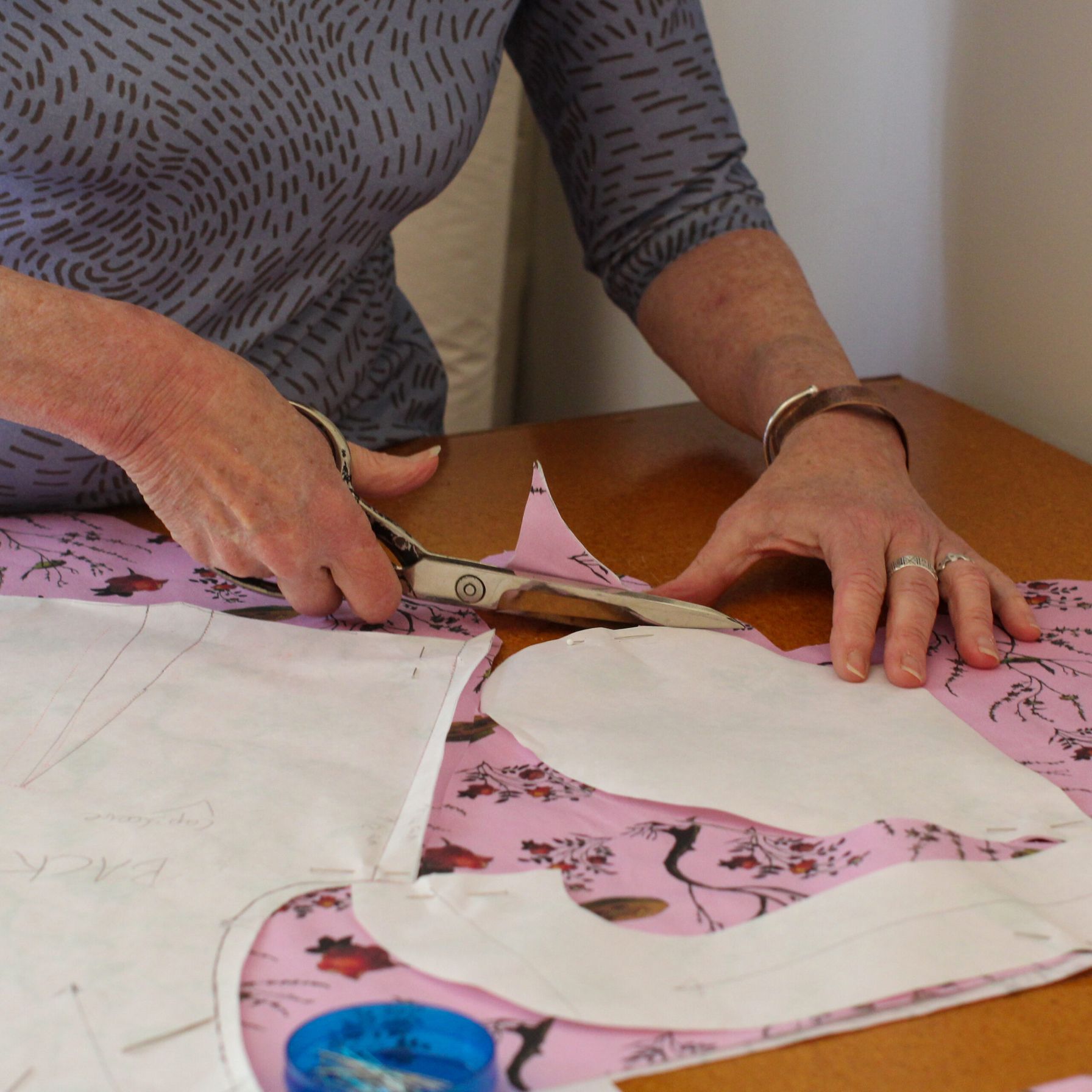 Kate has worked in the fashion and manufacturing industry her whole life. In her 20's, she created made-to-measure clothing for clients from her home. Since then, she has designed and made garments in a wide range of areas. She has spent time in the workroom at the Victorian State Opera and made clothing for local theatre companies, for Australian tv shows and feature films, historical garments, circus outfits, wedding gowns and bridal garments and custom items for musicians. Kate currently works part-time as a sewing teacher, where she is enjoying teaching the next generation of sewing machinists.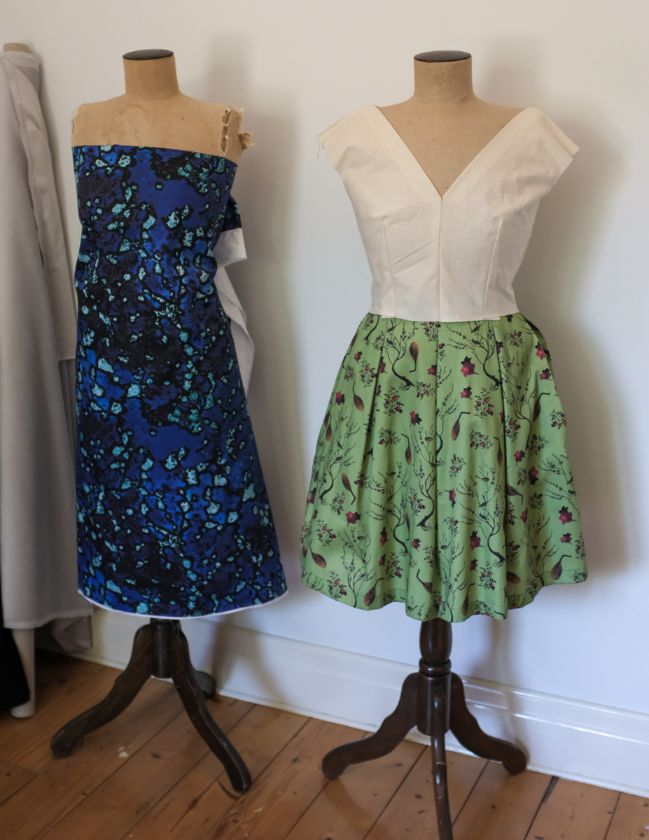 "Designing and making is like meditating, it brings serenity. If I don't sew for a week, I don't feel right – like something is missing.

Kate Pitman
Kate sees Magenta Threads as the newest evolution of her many creative interests. She is very interested in creating new designs, learning techniques, and coming up with pattern-drafting ideas, as well as all kinds of other creative endeavours. Her most recent obsession was learning how to create custom digital fabric prints. She became interested in this area after taking up screenprinting as a hobby.
Kate decided that she wanted to learn how to create a repeating pattern (a seamless pattern motif which has been specially designed to join together continuously) and did a short course in digital fabric design. After completing the course, she realised that it was a perfect opportunity to combine a number of her interests – fabric design, patternmaking and making custom clothing.
"People feel confident if they feel like they're well-dressed and comfortable. I love helping people feel like that!

Kate Pitman
A lover of the great outdoors, Kate takes inspiration from the natural world for her clothing prints. Native Australian flowers, trees, and the beach often form part of her designs. She only uses natural fibres, including cotton, linen, bamboo, hemp, wool, and silk, because they will biodegrade at the end of their life as a garment.
Kate decided to get her business accredited with ECA because she felt that it was important to support other Australian makers. She believes that people who work with their hands do not often receive the respect or pay they deserve, and she views the work that ECA does as important in helping shift that public perception. One of the benefits of becoming accredited is that she has seen an increase of traffic to the Magenta Threads website, which has come from the ECA website.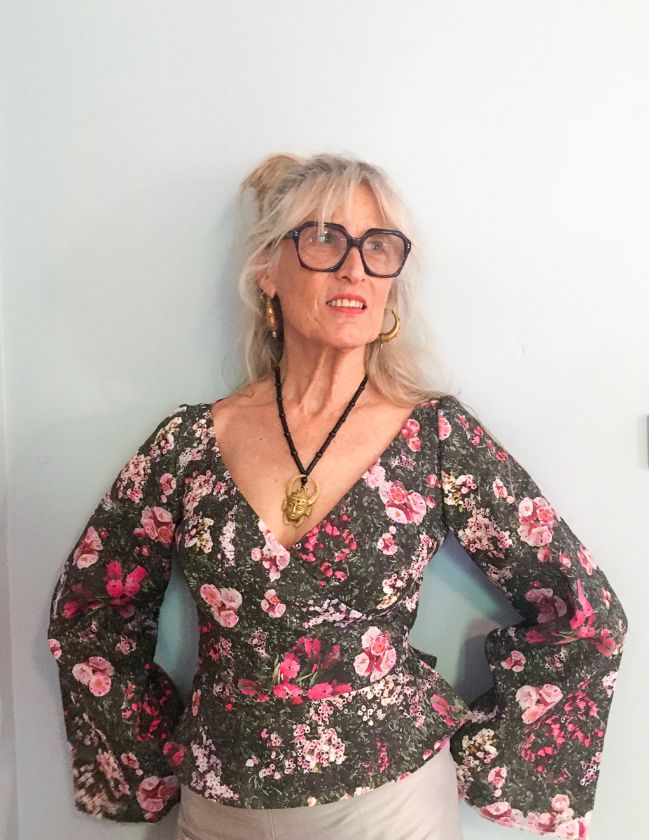 A customer of Kate's wearing a blouse in the 'Bush Flower' print.
"There are a lot of people who care about their clothing being made well, and the people who make them being looked after.

Kate Pitman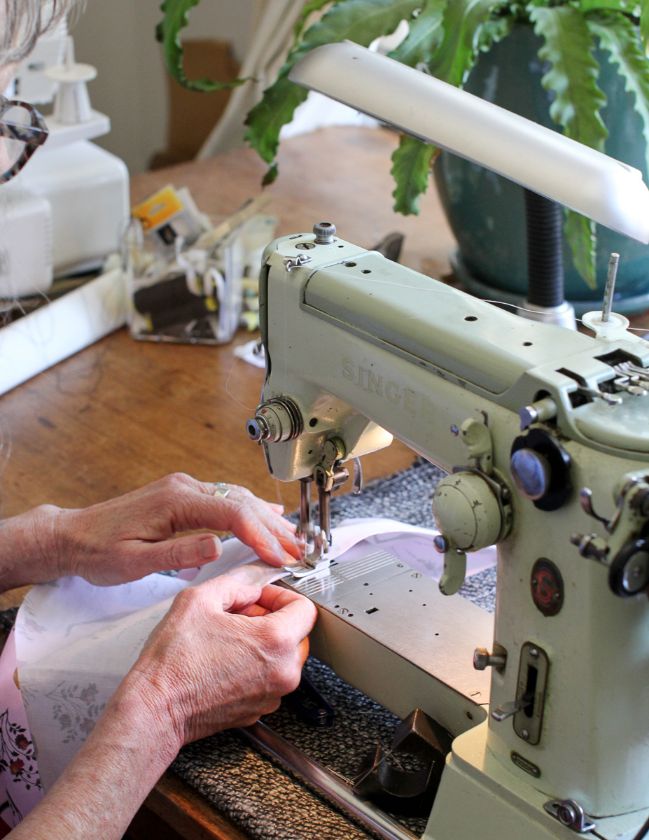 Kate's current favourite fabric print from Magenta Threads is called 'Bush Flower'. This design came from a trip to a botanical garden in Balwyn (in Melbourne's east), where she couldn't believe how many beautiful, colourful native flowers she saw. After taking photos of the flowers, she raced home to turn this into a repeating pattern, which then became a matching set, including a suit jacket, straight-leg pants and bustier top.
Kate makes all her garments on her mother's domestic sewing machine, a mint green Singer which was purchased in London in 1960. At over 60 years old, the machine is still reliable and sews just as well as when it was brand-new. Using this sewing machine helps Kate to feel close to her mother and reminds her of all the things that she taught her about sewing, fitting and fabrics.
Kate may have come a long way from making doll dresses from scraps of fabric, but her desire to make beautiful clothing remains just as strong.