What Does Ethical Fashion Mean?
Ethical fashion, fast fashion, slow fashion, greenwashing, mindful fashion, transparency, circular fashion, eco-friendly fashion, conscious fashion, traceability, sustainable fashion…the list goes on and on.
With so many buzzwords floating around the industry, it's easy to get confused, overwhelmed, or put off in your quest to find and support brands that are doing the right thing.
So, we thought we'd put together this handy guide to help explain what ethical fashion means, how you can easily spot ethical fashion, and where you can instantly start browsing and shopping for ethical brands without the need for hours of research first.
Let's start with the basics, what is ethical fashion?
Depending on who you're talking to, discussions surrounding ethical fashion can have a slew of different criteria and various interpretations. Some define ethical fashion as fashion that aims to reduce the negative impact on people and the planet, intertwining their ethical and sustainable fashion definitions together.
Here at Ethical Clothing Australia, (ECA) we focus on the human elements when it comes to the manufacturing of textile, clothing and footwear (TCF) products here in Australia. It is our mission to protect and advocate for the rights of every person behind a garment, and so we define 'ethical fashion' solely in terms of protecting the rights and lives of garment workers. Our accreditation program ensures that these workers are receiving the correct pay, entitlements and are working in safe conditions in line with Australian workplace laws – something that cannot be taken for granted
What is ECA's accreditation program?
Established in 2000 in response to growing concern about the exploitation of Australian garment workers, ECA's accreditation program maps Aussie supply chains all the way from design to dispatch. Once accredited, businesses are revisited annually with compliance audits carried out by the Textile Clothing and Footwear Union team to ensure that nothing has changed since their last audit.
ECA exists to protect the rights of local factory-based workers and outworkers aka, homeworkers.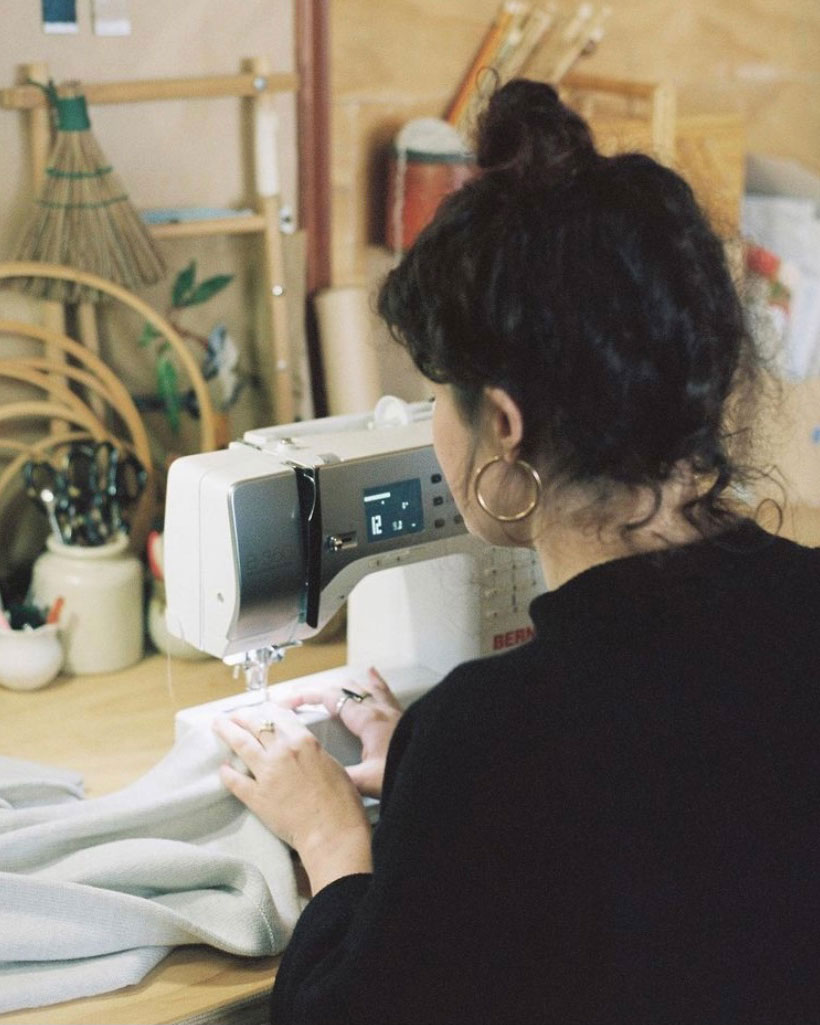 This work is particularly important for outworkers who are most at risk as they frequently work in isolation, can face unrealistic deadlines, be forced to work long hours, receive irregular work, and encounter occupational health and safety issues. Commonly, outworkers may lack knowledge about their legal rights, award rates and entitlements and feel powerless to speak up about problems in fear of rocking the boat and losing their jobs altogether.
How to spot ethical fashion
ECA's certification trade mark makes it easy to spot ethical fashion when you're out and about as well as during online shopping. Only brands accredited by ECA can display the trademark on their website and garment swing tags – so keep your eyes peeled!
If you see the ECA trademark, (pictured below) you know that the manufacturing of that particular item of clothing or accessory has been ethical from design to pattern making, to sewing and dispatch (and all the steps in between). It also means that it's been made in Australia.
ECA's accreditation program runs annual compliance audits, so as soon as you see the trade mark you know that fashion brand is looking after its workers' rights not just for a one-off audit, but on an ongoing basis.

Where to shop ethically
The great news is that through ECA's comprehensive compliance audits all the hard work has already been done for you in determining whether brands are ensuring their workers' rights are being upheld and in terms of easy ways to track down fantastic ethical Australian fashion brands!
If you'd like to support local ethical fashion brands you can check out our: